1866-1869 CDV of Fannie Perry by Maurice Farrington of Delhi, NY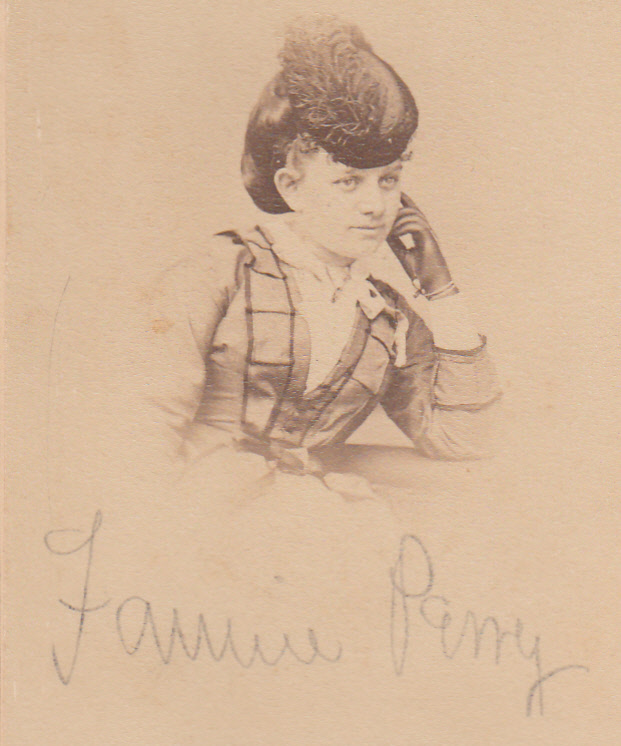 This is an authentic carte de visite (cdv) vignette portrait of a lady named Fannie Perry. When visiting in Victorian America, these small photographs could be used as calling cards. Often one wrote his name on the back or front. In this case, it could have been the admirer who wrote her name. Notice the pinhole in the top. Someone idolized this young lady.
Fannie Perry posed at Maurice Farrington's Art Gallery which was located over Calhoun & Sons' Drug Store in Delhi, Delaware County, New York. Farrington was the Successor to Byron R. Johnson & Co. and likely would have bought Johnson's trade and equipment.
The albumen is on a thin cardboard mount which measures 2 1/4 inches x 4 inches, has rounded corners and a gold pinstripe border. The name of the photography studio is on the reverse.
This is fine example of a fancy day dress, with decorative braid on the bodice and cuffs. She is wearing dark gloves and the perfect Eugénie style hat should mean that the photo was taken before 1870, closer to 1866 to 1869. Fashion has always been everything.
In 1870, Maurice Farrington makes his first appearance as a working photographer in Delhi, NY. On the 1870 NY Census, he was one of many individuals living in a hotel belonging to David Cottrell. The post office for this address in the city was given on the census as Meredith.
Maurice Farrington was born 1837 in Delaware County, NY, and died after 1910 in Delhi, Delaware County, NY. He was the son of Morris Farrington (b ca 1791) and Ruth neé Frisbee* of Delhi, NY. Maurice Farrington married in 1872 to Fannie or Frances Eliza Thompson. By the 1880 Census they and their young son Frank and daughter Pauline were thriving with a maid servant in their employ.
Maurice Farrington served in Michigan during the War Between the States. His name is on the US Civil War Draft Registrations Rolls 1863-1865 - Class 1, No. 18 Farrington, Maurice, age 25, occupation Farmer, Single, born NY (Michigan 2nd, Vol 1 of 3, Class 1, A-K, p 240) Prior to that, in 1860, he was still living at home and farming with his father.
Using the 1870 New York Federal Census for downtown Delhi, it is possible to take a ramble and locate some important people and places for the timeline in the research of Maurice Farrington, photographer:
At Household No. 23 on page 4 is another photographer,   aged 42 with his family. [Do not know yet if he and Farrington knew each other.] By the time you reach Household No. 62, on page 8, there is Calhoun's Drug Store, in which Maurice Farrington's photo gallery was located in the upper story.
On page 9 of the same 1870 census, Fanny Thompson, aged 21, school teacher, was living with other young adults who may be her siblings [On the 1860 Census, she can be found in the household of Nathaniel R. Thompson and his wife, Caroline C.]
On page 13 at Household No. 95 is David Cottrell's Hotel where Maurice Farrington was living in 1870.
And several pages further away at Household No. 192 is a single young lady named Fanny Perry! She was living with other female relatives.
______________________________________________________
Conclusion
Since, Maurice Farrington was in Michigan in the Army as late as 1865, and working in his photography studio over the drug store in Delhi, NY in 1870, it only takes the fashion style of Fanny Perry's outfit to estimate the date of this cdv as 1866-1869.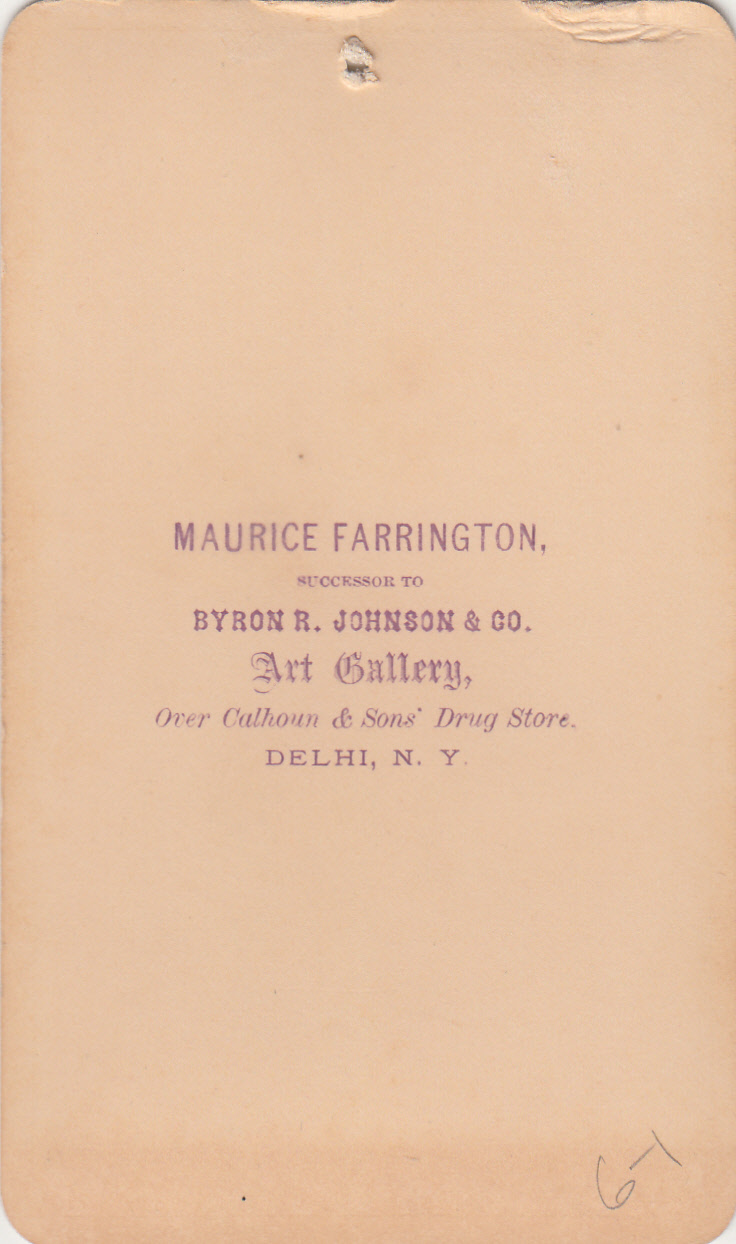 ____________________________________________________

SOURCES: A descendant on Ancestry.com has augmented the birth date of Maurice Farrington to 17 July 1837. He also gives the maiden name for his wife Fannie Farrington as Thompson.
*The Village of Delhi: Excerpts from the book by Pauline Hovenmeyer called "100 Years in the History of Delhi, New York 1860-1960". 
 Delaware County, NY Genealogy and History Site. List of Photography Studios in Delaware County. http://www.denyhistory.org/photo-studios.html