| | |
| --- | --- |
| Posted by LangdonRoad on March 29, 2011 at 11:29 AM | |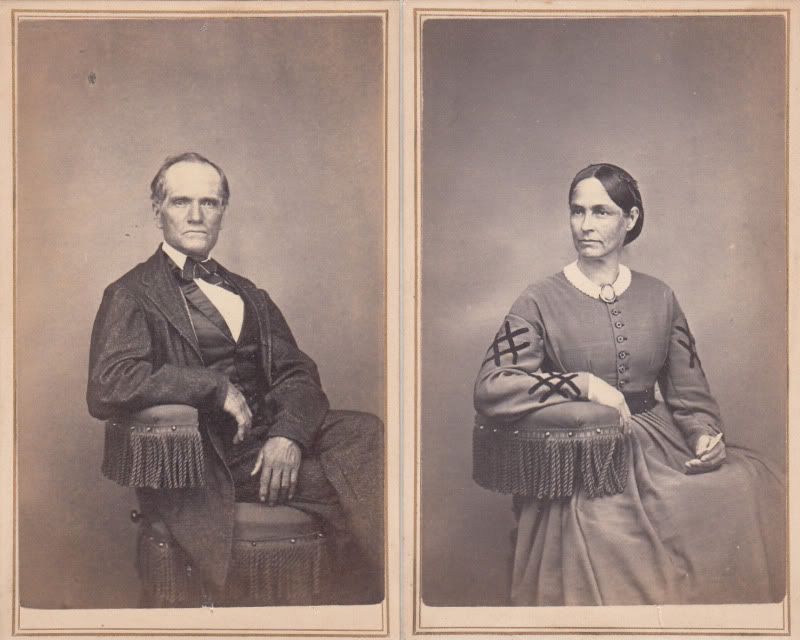 I. F. Alger, Photograph Artist, Winchendon, Mass
Reverse

Authentic Victorian Era pair of cartes de visite (CDVs) of an unidentified middle aged couple who posed at the studio of I. F. Alger in Winchendon, Mass. On the 1870 Massachusetts State Census there is an Israel F. Alger, Photograph Artist, born about 1828 in Massachusetts.
The somber couple may be husband and wife, although there is no way to be certain. The lady has paper in her left hand which brings to mind a letter from a son or daughter. Her dress in 1860's style, although some experts say that some women wore gowns that were out of style! She has a marvelous brooch at her throat. And extremely distinctive cross hatch pattern trim on hersleeves.
The CDVs measure about 2½ inches by 4 inches and the white or cream color card on which they are mounted is thin, with square corners anda delicate double gold pinstripe. The artists' mark is on the back. Every indication that the photos were taken in the mid to late 1860's.

Source: MA State Census