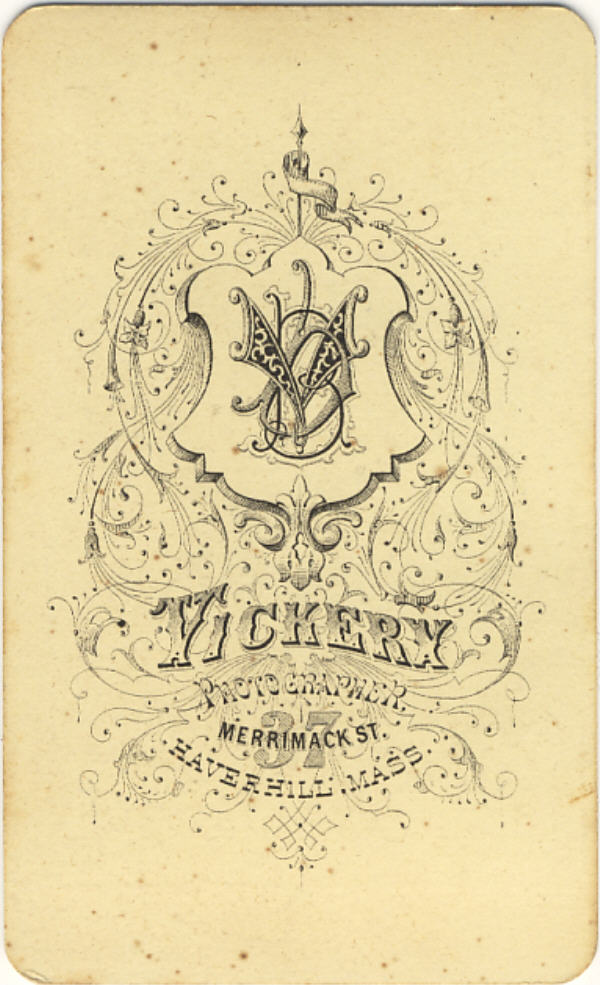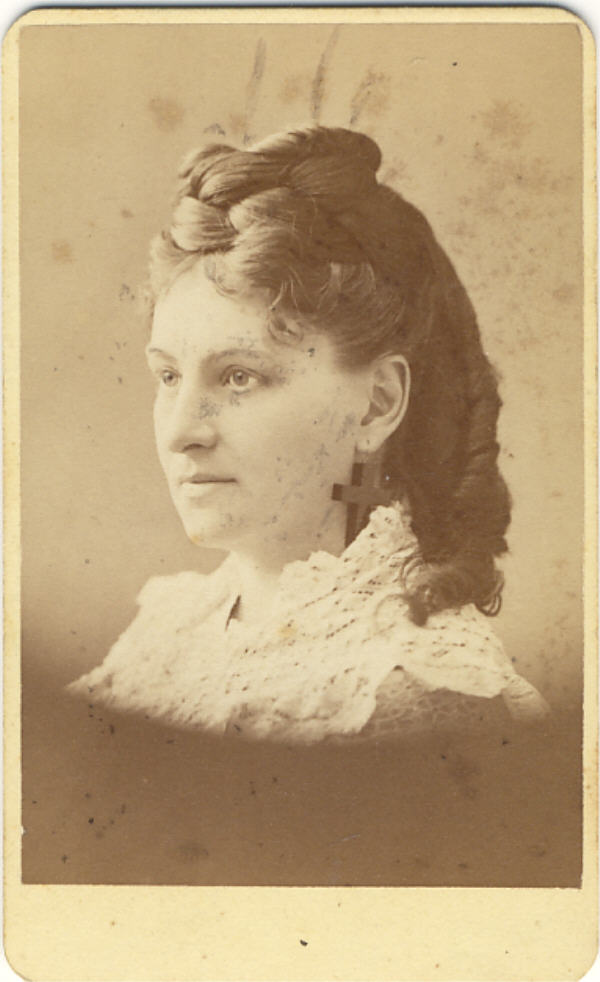 With the use of photo software, it is possible to "clean" the appearance of the image. Photos of this kind are used by costume makers and authors writing about Victorian fashion.
Authentic Victorian Era carte de visite portrait of a young woman who posed at the studio of D. B. Vickery, 37 Merrimack St., Haverhill, Mass. According to the Haverhill Massachusetts City Directory for 1869-1870, Dexter B. Vickery, Photographer, was indeed at 37 Merrimack St.in Haverhill.
The lady's hair is plaited and curled and a froth of lace sets off her face. And she is wearing large wood or semi precious stone crosses on earwires, dangle earrings which must be more than two inches long.
The albumen measures about 2 3/8 inches by 3 5/8 inches and is mounted on a heavy white or cream card with rounded corners, that is 2 1/2 inches by 4 1/8 inches. The artist's mark is in a fanciful pattern on the back. The cdv is not in the best condition, but the image itself is clear and has good contrast. Photo software has been used to enlarge and touch up the image to show her lovely face.
The photographer Dexter B. Vickery appears clearly in New England Censuses from 1850 to 1900. He was born in about 1840, the son of Alfred Vickery, a farmer in Merrimack, New Hampshire. By 1860, at just the age of 19, D. B. Vickery was a Daguerrean Artist in Lowell, Massachusetts. William Kendall, another Daguerrean Artist, born about 1832, is boarding at the same address as Vickery in 1860.
By the 1870 Census, Dexter Vickery, Photographer, was flourishing and working in Haverhill, Massachusetts, and married to Julia Vickery. As noted in the Haverhill City Directory 1869-1870, he was at 37 Merrimack Street, as the back of the photo also shows.
Vickery and wife Julia are also listed in Haverhill on the 1880 Census, living at 19 Highland Avenue. Boarding with him is Eva Lee, his niece, aged 27 and single, who is working as an Artist, possibly as a retouch artist. Also another lady named Ginny Blakeslee, a boarder, is also working as an Artist.
Sources: Federal Censuses