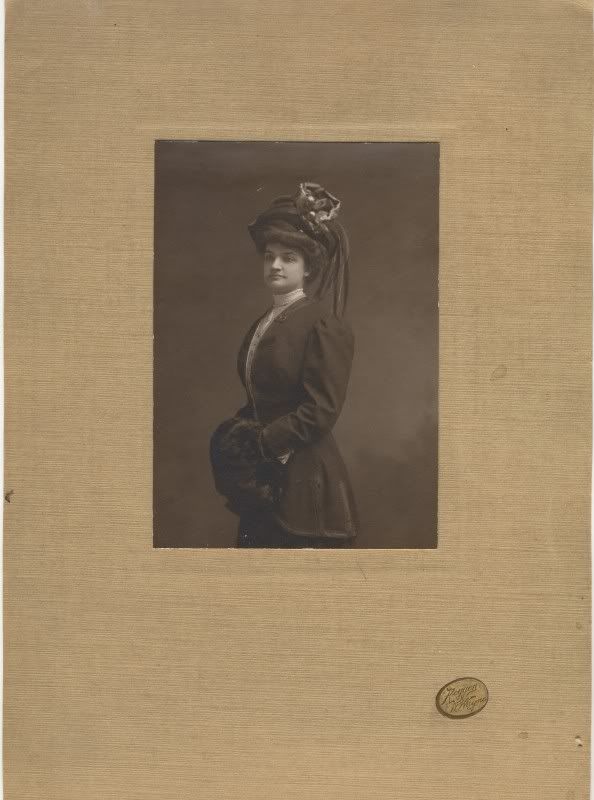 Photograph by Adolph Roggen of Fort Wayne, Indiana. Unidentified lady posed around the year 1900 in a large hat trimmed with wide ribbon and long feathers or fur. Her jacket has leg-o-mutton sleeves and military style cuffs and tails. She has a strand of matched pearls around her high collar. This authentic, antique sepia image measures 3.75" x 5.75" has a matte finish and instead of being mounted on thick cardboard it is partially affixed with glue to 9" x 12" cardstock with a linen surface. The artist's mark is a gold foil paper seal glued to the mount. It reads only: "Roggen, Ft. Wayne." The reverse is blank. *Photo is sold.
Using census records and city directories, the world of Adolph Roggen appeared. I was first able to locate Mr. Roggen's first name on the 1900 Federal Census for Indiana, Allen County, Wayne Township and Fort Wayne City. Adolph Roggen was the head of household in a house at 34 West Simpson in Fort Wayne. Adolph Roggen, Photographer, aged 36 was born about November 1863 in Germany of German-born parents. He noted that he was a naturalized citizen, having immigrated to the US in 1872 and had been living here for 27 years. As he would have been about 9 years at the time, he may have come to the US with his parents or family.
Boarding in the house at 34 West Simpson were several men with different occupations. One is another photographer named Chas A. Quillen, aged 22, born about October 1877 in Ohio.
On the 1910 Indiana Census, Wayne Twp, Allen Co., Fort Wayne City, Adolph Roggen is aged 46, still single and living by himself at 1122 Calhoun. He is renting the house, but owns the photography studio. His emigration year is given as 1873. According to Indiana Marriages 1800-1941, Adolph Roggen married on 11 April 1911 to Pearl Crouse in Allen County, IN. (Source: Index to Marriage Record 1824 - 1920 W. P. A. Book 35 OS Page 404)
There is a typed transcript of the 1903 Fort Wayne, IN City Directory. Listed is Pearl Crouse who was working as a photo retoucher for Adolph Roggen. At the time Pearl Crouse was boarding at 754 W. Superior. The house there was owned or rented by David Crouse, whose occupation is given as laborer. That year Adolph Roggen, photographer worked and lived at 1122 Calhoun, the address where he was still listed on the 1910 Census.
By 1920, Adolph Roggen had moved to Illinois, Lakeview Township in Cook County. The 1920 Federal Census for Illinois Cook Co. Lakeview Twp shows him living at 1242 Cornelia Avenue. The ages and dates for him in particular are inconsistent and he is working as the manager of restaurant. Wife Pearl Roggen aged 37, was born in Indiana and their daughter Josephine Roggen was born in 1912-1913 in Indiana as well. There is a birth record for a daughter born to Adolph and Pearl Roggen in 16 August 1912 that seems to be for daughter Josephine Roggen. (Source: Allen County, Indiana Index to Birth Records 1887 - 1920 Inclusive, Book CH-5, Page 132)
By the time of the 1930 Census, Adolph Roggen is again working as a Photographer. He and his wife and daughter were living at 1320 Montague Avenue, in Chicago's 48th Ward in Cook County, IL.
Albert C. Roggen died 7 July 1941 in Chicago. [Source: File number 19021 Cook County Genealogy Records (Deaths), Chicago, IL]