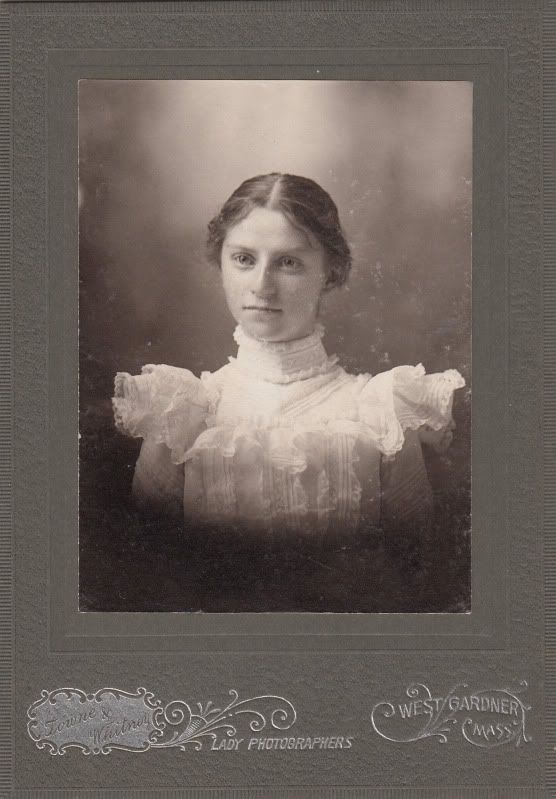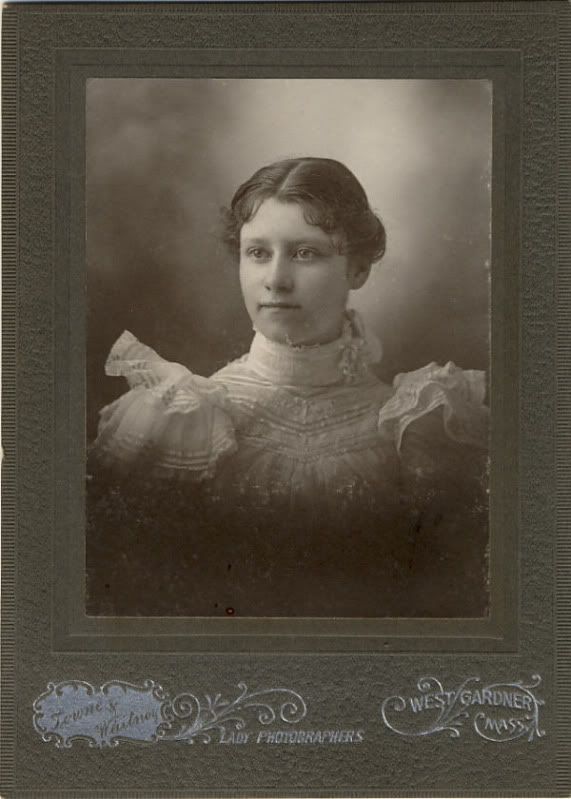 Alice L. Rice                                       Jessie Gertrude Ogilvie

These are likely formal portraits of two of  the graduating class of 1898 at Gardner High School. Their names are indicated on the back. These were taken at the studio of Towne & Whitney, Lady Photographers, Central St., West Gardner, Mass. The images measure 3 by 4 inches and are on charcoal gray colored textured card stock which measure 4 1/4 by 6 inches. Engraved in silver lettering on the front is the gallery name.

Towne & Whitney

Anna F. Towne and Alma F. Whitney had a photography studio in Gardner, Massachusetts, a little before and into the first decade of the 20th century.
Anna F. Towne was born Feb 1857 in Maine. From available information it seems she married in about 1876-1877 to Willis N. Towne, also a photographer (b ca 1855 in MA). They had two children, Anna M. Towne born 1877-1878 and Willis H. Towne born 1879-1880 both in MA. On the 1880 Census the family is living at 194 Washington St., Boston, MA along with Anna F. Towne's mother-in-law Ursula Towne, sister-in-law Lilian M. Towne and brother-in-law Charles S. Towne.
Alma F. Whitney was born about 1862 in MA. In 1870 she and her siblings Alice E. and John D. were living with their widowed young mother, Emma Whitney (b ca 1841 in MA) in the Town of Athol in Worcester Co, MA. By 1880 Alma F. Whitley's mother had married again to Sumner W. Pitts, a restaurant keeper in Athol. Alma was 18 yrs old and teaching school and living with them, her half sister Ada L. Pitts and two female boarders, or it is possible she was in Warwick. There is another listing for an Alma F. Whitney the same age, teaching school in Warwick and boarding with the family of Samuel Reed.
By 1900, Towne and Whitney were in partnership in Gardner, MA.  Anna F. Towne was 43 years old and divorced. Alma F. Whitney was 38 and unmarried. Their photography shop was at 143 Central St. in Gardner.  Working with them was Anna M. Towne, Anna's daughter and young woman named Annie W. Ross.
That same year, 1900, Willis Towne was living and working at 289 Washington St., Boston, as a photographer with his second wife Clara Towne whom he married ca.1890.

                      _________________________________________________

Clara L Rice, (above left) was an educator and Assistant Administrator of Art in Newton and Gardner, Massachusetts public schools. She was born in Nov 1879 to Orrin T. Rice and his wife Martha A. (or N.) Whittemon/Whittemor. On the 1880 Federal Census in Gardner Township, Worcester County, Massachusetts, she first appears aged six months with her parents and a sister Minnie who was born 1869, all born in MA, and maternal grandparents, William Whittemon born 1820 in MA, a Grocer and his wife Eliza born 1821 also in MA. Clara Rice's father Orrin Rice was working as a clerk in his father-in-law's grocery store.
.
By 1900, Clara L. Rice was 20 years old, attending school and still living with her parents at 116 High Street in Gardner. She now had a younger brother William O. Rice (b ca 1881), also a student. Her father was working as a chair framer.
In 1910, her parents were living alone at 116 High Street, Gardner, but by 1920, Clara  was again at home with her parents at 116 High St. Her father was still working for a chair manufacturer and Clara was teaching in the public schools. By 1923, Clara Rice moved to Newton, Middlesex Co., MA; She is listed in the city and again in the 1929 Newton City Directory when she was assistant supervisor of drawing in the public schools in Newtonville.
Clara L. Rice, at age 50 is on the 1930 Census boarding at 17 Maple Ave., in Newton, with an elderly lady Delia E. Clegg, two Clegg relatives and one name Dorothy Taylor. In addition to Clara, there were three other unrelated spinsters who called this home: Fannie Tewkesberry  and two school teachers,Annie L. Laman and Gertrude P. Cutten. In the 1940 Newton City Directory, Clara L. Rice is still Assistant Supervisor of Art in the public school district.
Jessie Gertrude Ogilvie, (above right) was a Massachusetts educator. She was born about 1883 in Canada. She appears on the 1900 Federal Census in Gardner Township, Worcester Co., Massachusetts in the household of Charles B. Ogilvie and his wife Stella E. Ogilvie. There are other children: Florence E. Ogilvie, Eva M.Ogilvie, all born in Canada (English part) and Ivan B. Ogilvie and Clinton B. Ogilvie, who were both born in Massachusetts. All the children were attending school. Due to her Canadian birth, she can be traced further.
In 1910, Jessie G.Ogilvie is 27 years old and a resident in Elizabeth Thorpe's boarding house in Newton City, Middlesex County, MA, where she is teaching public school.  In 1920, J. Gertrude Ogilvie is back home living with her father and teaching public school in Groton. By 1930 she is living and teaching public school in Boston. 
Sources: US Federal Censuses, City Directories